One aspect of digital transformations that seems to be common-sense among people who are in or who help companies go through this process is that what is most difficult is not the digital and technology changes, but the cultural and mindset changes needed to make a successful transformation. In this article, I'll go a bit deeper in these needed cultural and mindset changes in the hope that we can better understand and tackle the obstacles that hinders the journey through successful digital transformations.
I worked almost my entire career in tech companies, i.e., companies where technology was the product. My own company, back in the early 1990s, was an internet service provider. Then I worked at a data center called .comDominio which was eventually acquired by Equinix. After that, I worked at Locaweb, the biggest internet service provider in Brazil, and Conta Azul, an ERP platform that connects small business owners to their accountants and everything they need to run their business. I joined Gympass in 2018. Gympass sells a corporate benefit to companies, so they can offer to their employees access to a network of gyms and studios, and more recently other well-being services like meditation, nutrition, and mental health support. For Gympass, the technology is not the product, it is a tool to potentialize their core product. That got me thinking about the power of digital to substantially potentialize non-digital businesses. And that was my main motivation to join Lopes, the biggest real estate company in Brazil, a company founded in 1935 that made a follow-on offering in the stock market in late 2019 to raise funds to invest in their digital transformation. I've been working at Lopes since mid-2020 and I've been learning a lot in this digital transformation journey.
The impact of uncertainty in different industries
An interesting article on HBR about The Industries Plagued by the Most Uncertainty presents a chart where many industries are shown according to their technology uncertainty, measured by the industry's research and development (R&D) spent as a percentage of revenue, and its demand uncertainty, measured as an equal weighting of industry revenue volatility, or change, over the past 10 years and percentage of firms in the industry that entered or exited during that same time period.
As we can see, in the top right region of the chart we can find Computer and Software industries, next to Pharma, Medical Equipment and Transportation industries. These are the industries where we have to invest the most in R&D and the demand is the most uncertain. Computers and Software are the newest ones. Pharma, Medical Equipment, and Transportation are more traditional ones, having Technology and Demand uncertainty similar to Computer and Software industries.
When we look into other more traditional industries, like Banking, Insurance, Retail, Entertainment, Real Estate, and Construction to cite a few examples, they present lower technology and demand uncertainties.
Digital transformation is more about transformation than about digital
When a traditional company decides to enter the route of digital transformation, one thing that needs to be clear is that this route is more about transformation than it is about digital. The digital aspect is very important since technology is central in any digital transformation. However, it's relatively easy to find knowledge and experts that can help understand and tackle the technical aspects of a digital transformation. On the other hand, the transformation aspect of any digital transformation requires business and cultural changes which are considerably more difficult to implement. And to make things even harder, there is not much knowledge available about this topic, so we tend to credit its difficulty to a somewhat generic cultural and mindset cause, which is correct, but insufficient to help us deal with the matter.
The demand and technology uncertainty chart can help us understand why the business and cultural changes in a digital transformation can be so difficult. The traditional company is normally used to a certain level of technology and demand uncertainties. However, when entering the digital world, the level of demand and technology uncertainties increases considerably:
Computer and Software industries demand uncertainty is very high, one of the highest of all industries, which means that the software produced not always achieve its objectives. This success rate has been improving in more recent years with the evolution of digital product development and management techniques and mindset, but there are still many digital products that either fail completely or partialy in achieving the expected results and strategic objetives. This can be very frustrating to a company in an industry with less demand uncertainty. In order to minimize the demand uncertainty we've been using the realease early and often mindset, which people from more traditional industries need to understand and adopt in order to cope with the demand uncertainty of the computer and software industries.
The technology uncertainty will require from the traditional company an understanding that (1) it will have to invest and (2) investment in digital products are multi-year investments. To illustrate this need for investment and it's multi-year aspect, I'll use 2 examples. The first one is Amazon. It was founded in June, 1994 and started operating in July, 1995. Had an $8M Series A investment round in Jun, 1996. IPO was in May, 1997 and then Amazon received a $100M in a post-IPO Equity investment in Jul/2001 and only showed a profit in 4Q2001 results report. So, from founding to profit it took 7,5 years and $108M investment plus money raised from angel investors and in the IPO. The second example is Nubanlk, a Brazilian digital bank founded in May, 2013 which started operating in 2014. Raised $1.87B from Series A through Series G. IPO was in Dec, 2021, and then Nubank received a $1B in a post-IPO Equity investment in Feb, 2022. Its 1st post-IPO report presented a $66.2M loss for 4Q2021. So, from founding to its IPO, it took almost 8 years and $2.87B plus money raised from angel investors and in its IPO. Even after all this time and money invested, Nubank still doesn't show postive results. Please note that both companies are what I normally call "traditional born-digital" companies, i.e., companies which its core industry is not computer or software, but who were founded already with digital as part of their satrategy to potentialize results. Amazon is in the Retail Industry with low technology uncertainty and mid demand uncertainty and Nubank is in Banking industry witgh low technology and demand uncertainties, based on the demand and technology uncertainty by industry chart presented above.
The more distant an industry is from the Software Industry in the chart, the bigger the transformation change needed, i.e., the company needs to (1) understand that digital product development may not bring the desired results and (2) digital products take time to provide a return on the investment.
People also face digital transformation
I'm talking here about companies going through digital transformation and the challenges theses companies face during this transformation but companies are made of people, so the digital transformation actually happens to people who need to understand the demand and technology uncertainties that charechterize a digital transformation.
This fact that people go through digital transformation seems obvious when we talk about traditional companies, specially the ones that have decades of existence like bank, retail, drugstore, bookstore, real estate, insurance, restaurant and so on.
However, besides traditional companies, there are also two other types of companies:
tech companies which sell technology, i.e., technology is their core. Some examples are Google with its main product, Google Search and GMail. Amazon Web Services. Facebook. Instagram. WhatsApp. SAP. Salesforce. Zendesk. The companies I worked for (Locaweb and Conta Azul).
born-digital traditional companies which have traditional products or services that can exist without technology. However, as they have included technology since their beginning as a strategic capability, they look like digital companies. Examples are Amazon and Nubank that I cited above. Additional examples are listed in the image below: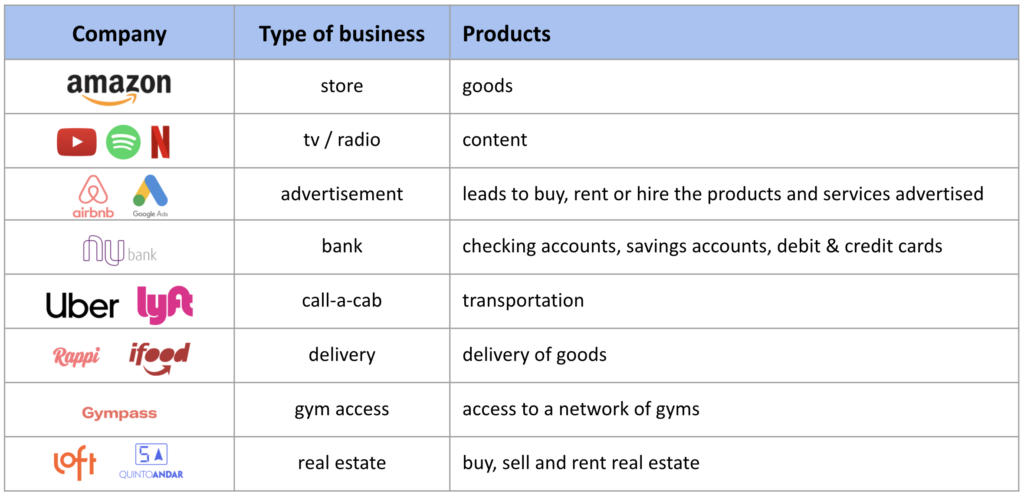 When we consider that digital transformation happens to people who are part of a company, it's clear to see that born-digital traditional companies and even tech companies also face digital transformation. Many people who work in these companies probably came from more traditional industries with less demand and technology uncertainties and will have to adapt to a more uncertain context. For instance, to build Nubank, many of its employees, including C-level and founders, came from the banking industry like Cristina Junqueira who worked for Itaú prior to founding Nubank. Another interesting example is Google's CFO Ruth Porat who worked at Morgan Stanley prior to joining Google.
Being able to understand the previous context of the people who are working on a digital transformation may help cope with the struggles and issues that we may face in a digital transformation, especially with its transformation aspect.
Summing up
The digital aspect of digital transformation is relatively easy since there are tons of knowledge and many experts to help design, develop and implement digital products. Product management and development techniques have been evolving at a rapid pace.
The transformation aspect of a digital transformation is harder since there's not much knowledge about it and we tend to credit its difficulty to a somewhat generic cultural and mindset cause.
Demand and technnology uncertaintIies of the software industry is what makes digital transformation difficult. Traditional companies that are in more certain contexts struggle to understand, and consequently to cope with, these uncertainties.
Born-digital traditional companies and even digital companies also face digital transformation issues since the people who work in these companies, including C-level and founders, may come from companies in contexts where demand and technology are less uncertain.
Being able to understand previous context of the people who are working on a digital transformation may help cope with the strugles and issues that we may face in a digital tyransformation, specially with its tranasformation aspect.
Digital Product Management Books
Do you work with digital products? Do you want to know more about how to manage a digital product to increase its chances of success, solve its user's problems and achieve the company objectives? Check out my Digital Product Management bundle with my 3 books where I share what I learned during my 30+ years of experience in creating and managing digital products:
You can also acquire the books individually, by clicking on their titles above.
Mentoring and advice on digital product development
I've been helping several companies extract more value and results from their digital products. Check here how I can help you and your company.